Beijing is beautiful, decent, lovable and leisure. It is China's cultural and political center, also one of the busiest transportation hubs, as well as the No. 1 tourist destination in China with numerous places to visit, innumerable things to do and a lot of delicious food to try. Here you can enjoy the historical glory and wonders of China at Forbidden City and Temple of Heaven, unlock the luxurious and chic living style of royal families in Summer Palace, measure the walls, towers and bricks of the Great Wall personally, savor at an authentic dinner of Peking Roasted duck. Or marvel at Beijing's another face of Modernity and fashion by visiting the CCTV Tower, Bird's Nest, Water Cute, China Zun Tower, etc.


Beijing Attractions and Places to Visit

As the No. 1 tourist destination in China as well as the current capital, Beijing is full of places to explore. Below is the some Attractions in Beijing.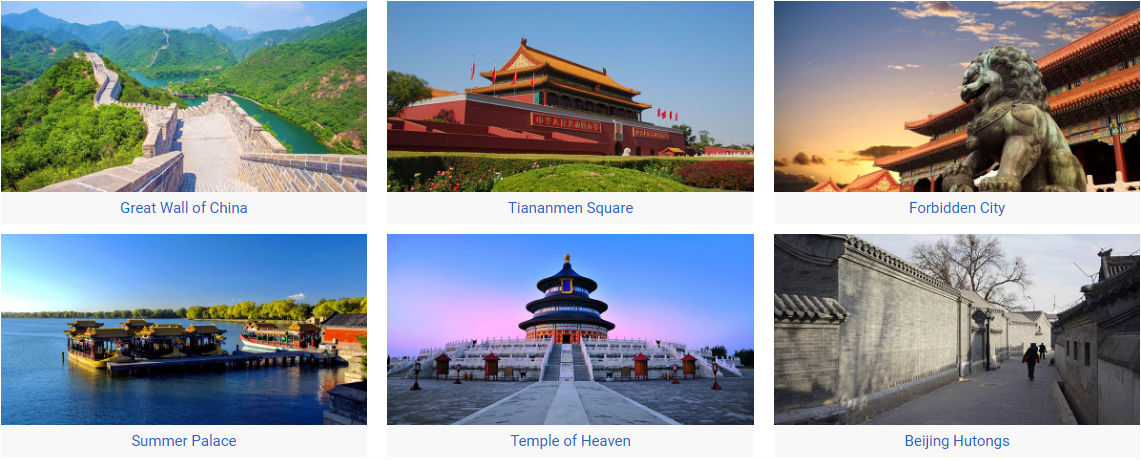 Useful Tips:

Best Time To Visit
Suitable to visit all around the year; March to June and September to November are two best periods to visit Beijing.

Beijing Transportation
The subway is the cheapest way to get around (a one-way trip starts at about $0.30). Taxis are plentiful and cheap, though cycling is arguably the best way to see the city, especially if you're staying in an area with many hutongs.

Beijing Weather
Located in northern China, Beijing has a temperate continental monsoon climate, and usually no extreme weathers. July is the hottest month, with an average high of 81°F (27°C), and January is the coldest, with an average high of 25°F (-4°C).

Language
Mandarin Chinese

Electric
Type 1 three-prong plug

Currency
Chinese Yuan (¥)